Link building is a major key to helping your website rank well on search engines. In fact, for Google it's one of the most important ranking factors outside of topical relevance and website speed.
To that end, this post will take you through how to find websites that are linking to your website, websites that link to your competitors, and how to find cool backlink opportunities.
Top free ways to find backlinks
Most SEO specialists will use some pretty cool tools to find backlinks but those tools cost around $100/mo. each. So if you don't have that kind of cash to start out with, here are some free ways to find backlinks.
Step 1: Use free SEO tools to find links
There are three tools that offer free service for finding links that link to your website. Using these tools is definitely the fastest way to find links. Each tool has a free and a paid version, and obviously you get way cooler stuff with the paid versions – but the free tools are still super useful for our purposes.
Moz allows you to use their link explorer 10 times a month for free. Not a ton of searches, but they're giving it to us for free. so beggars can't be choosers. The link explorer will let you put in your domain (or your competitor's) to find all the sites that mention you that they've found.
Ahref's backlink checker is really cool. You can put in any domain and get back 100's of domains and urls that are linking to you (or your competitor). The only hangup is the lack of ability to export all that cool data for free. But dem's da breaks… (you can always copy paste into excel. But don't tell them that).
Step 2: Use search operators on Google
A search operator is a combination of commands that you can put into Google to pull up very specific results from their index. Here's the search operator you'll want to use to find backlinks pointing to your site:
"yourdomain.com" -site:yourdomain.com
Basically what you're asking Google is: give me all websites that mention yourdomain.com, but don't include any webpages that are actually from yourdomain.com. Here's what it would look like if we wanted to do that for a sports blog about the basketball team Golden State Warriors called goldenstateofmind.com: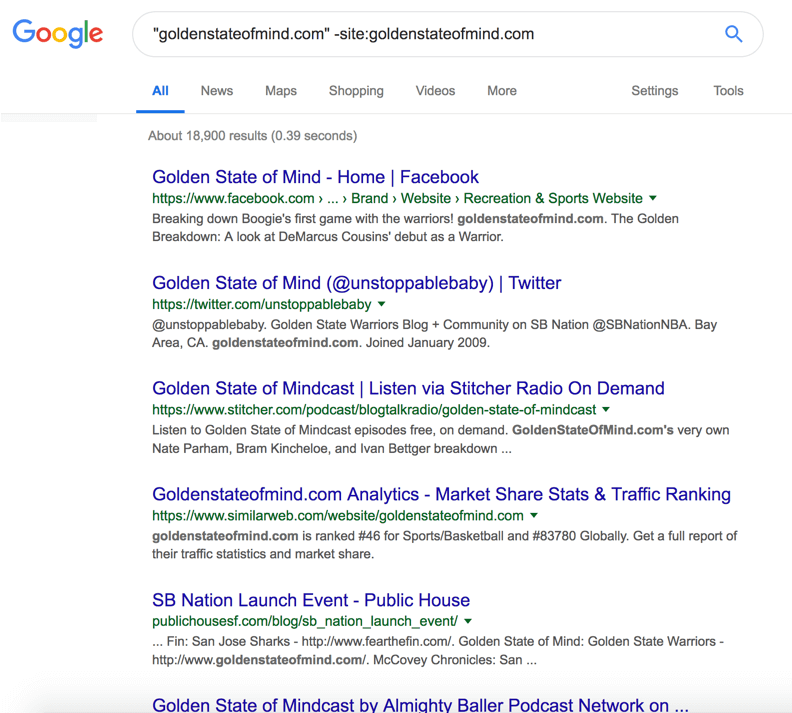 The first thing you'll notice is that all their social media profiles appear first. Skipping over that, you'll start to get some cool websites linking to these guys. If this was my website, I'd be pretty stoked.
You can also see at the top (right under the search bar) just how many urls link to goldenstateofmind.com that Google has indexed (18,900 links according to Google).
But what if I wanted to look at all the pages instead of having to click through each page and copying each individual link? Because that would take forever…
Step 3: Use a scraper to get all the links
There's a bunch of free scrapers out there for you to use to get a huge look at all the links that point to our website.
Here are a couple easy ones to use:
Link Klipper lets you scrape all the links on a page and exports it into a nice excel doc for you.
Simple Serp Scraper is a personal favorite. It'll scrape the top 100 results of any google search and exports it to excel.
Step 4: Compile all your excel docs into one file
If you're looking to find a bunch of potential links from competitors, you'll probably use the search operator above a few times with different domains.
pro tip: Simple Serp Scraper allows you to put multiple searches into one session, so you don't have to repeat step 2 multiple times
If you used any of the free tools mentioned above, you'll have separate excel files. You'll want to combine all of them, and remove any duplicate urls from your list.
Step 5: Group your links by domain
This is where we get some fun. Right now your excel file is a fat list of urls. In column B (or whatever column is immediately to the right of your list of urls), use the below excel formula to group your urls by domain:
=LEFT(A2,FIND("/",A2,9))
Now you can see all the unique websites that link to your competitors!
Now that you have a list of URLs and domains that are all interested in websites like yours, you can start reaching out to them and build links to your website.